A&S Sociology Professor Receives Appointment as Di Silvestro Professor
By Madison Dyment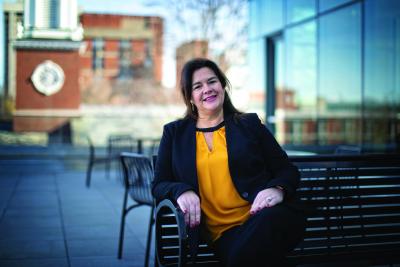 LEXINGTON Ky (June 22) – Carrie Oser, professor of sociology, will serve as the new Di Silvestro Professor in the College of Arts & Sciences at the University of Kentucky. UK's Board of Trustees approved the appointment in June.
The Di Silvestro Professorship recognizes a full professor who is dedicated to enhancing research excellence. As a five-year appointment that begins on July 1, the DiSivestro Professor receives an annual research stipend.  Oser, who was also a UK sociology and psychology undergraduate, was nominated by Dean Mark Kornbluh.
"I'm grateful for the wonderful alumnae of the College of Arts & Sciences for their contributions to support the research, education and service missions of UK," Oser said.
Oser, associate chair in the Department of Sociology, is a ' 98 UK graduate, the associate director of the Center for Health Equity Transformation and a faculty affiliate of the Center on Drug & Alcohol Research. Her research interests include addiction health services, health disparities/equity, HIV risk behaviors and interventions, social networks, implementation science and substance use among rural, African American or criminal justice populations. 
In 2015, Oser received the Senior Scholar Award from the American Sociological Association's Alcohol, Drugs, & Tobacco section.  She leads the Geographic variation in Addiction Treatment Experiences study, which is a research study supported by a $3 million grant from the National Institute on Drug Abuse and National Institute on General Medical Sciences and is a co-investigator on six other federally funded projects. 
With the DiSivestro appointment, Oser is determined to make the most of her opportunity to benefit as many people as possible.
"My goal is to live up to the prestige of this award by continuing to conduct rigorous high-impact research that addresses important challenges in the Commonwealth and beyond, with a specific focus on substance use disorder treatment," Oser said.
Oser also looks forward to helping to educate researchers, as they are imperative to carrying on the research she has dedicated herself to.
"In order to promote research excellence, I'm committed to training the next generation of scholars to continue tackling the adverse public health and public safety impacts of substance use," Oser said.
Roger Di Silvestro was born in Cleveland and raised in Nashville, Tennessee. He received his bachelor's degree in psychology from the University of Kentucky in 1972. Di Silvestro served as CEO for Athlon Sports Communications, a media company specializing in publishing and sports marketing, and retired in 2006 after 30 years with the company. In 2005, Di Silvestro co-wrote "The Art of Constructive Confrontation," a methodological guide to building productive personal and professional relationships with reduced conflict.
Di Silvestro was an initial member of the College of Arts and Sciences Dean's Advisory Board. He is a lifetime member of the UK Alumni Association. In 2004, he created the Di Silvestro Professorship, dedicated to enhancing research excellence within the College of Arts & Sciences.