Attorney General Visits Prize-winning Sociology Class
By Kathy Johnson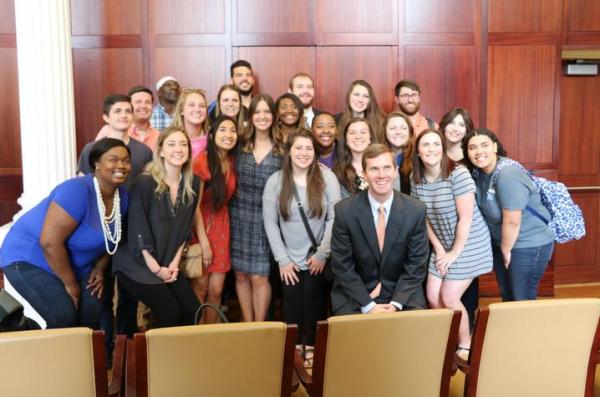 Attorney General Andy Beshear, front, joined Emily Bonistall Postel's UK sociology class on victimology for a photo.
A University of Kentucky sociology class welcomed Kentucky Attorney General Andy Beshear to campus Friday, April 28, as he presented the class with the first-place prize in the #VoiceofJustice video contest. As determined by a panel of survivors and victim advocates, Emily Bonistall Postel's class on victimology created the winning 30-second video "Stand with us" to promote the state's free and confidential Sexual Assault Hotline.
The Office of the Attorney General and the Kentucky Association of Sexual Assault Programs created the contest to engage Kentucky college students in raising awareness of campus sexual assault and encouraging crime reporting and active bystander intervention. April is Sexual Assault Awareness and Prevention Month.
Praising members of the class for the work they had done, Beshear said it was more than just creating a video.
"The step you took is how we start chipping away at rape culture," Beshear said. "Your work will have saved someone from being the victim of a violent crime …I'm really proud of you. You have stepped up and done an important thing."
Beshear presented the $500 prize to the class, who in turn donated it to the Bluegrass Rape Crisis Center, whose development and marketing coordinator, Kellie McClure, was on hand to accept.
Postel said she is proud of her students for producing the video and for voting to donate the winnings to "a resource that does so much for both the UK community and the greater community at large."  She also said the class has learned a lot about various types of harm that crime victims suffer, societal reactions toward victims, and what we as citizens can do.
"How can we prevent violence, how can we intervene if we see it unfolding, how can we support victims in the aftermath of their experiences? The video that my students created is a powerful testament to these efforts," Postel said. 
In speaking to her students for the last class meeting of the semester before final exams, she said, "You'll have an opportunity in your careers to remember some of the lessons we've learned this semester, and I hope when you're given an opportunity to stand up for victims, you'll remember our class video." 
Students Trent Patrick and Raenah Hawkins, both seniors who will graduate this week, led the video production effort that was done mostly out of class time.  They thanked their fellow classmates for everyone's contribution.
"In writing scripts for our video, I wanted to show that we stood together with victims of campus sexual assault, and we want everyone to join in standing with us for those who feel like they may not be able to stand for themselves," Patrick said.
Hawkins said she hopes many people see the video and that it can play a part in helping end sexual assault.
"I'm glad we can stand up and show victims we support them and that we will do everything we can to stop sexual assault," Hawkins said.
Beshear's office received 14 entries from seven colleges and universities: Elizabethtown Community and Technical College; Murray State University; Owensboro Community and Technical College; Western Kentucky University; West Kentucky Community and Technical College; University of Kentucky and University of Louisville.
The videos are posted on the Office of the Attorney General's YouTube page and are available for public service announcement usage on Kentucky's college campuses and by statewide media outlets.
UK is the University for Kentucky. At UK, we are educating more students, treating more patients with complex illnesses and conducting more research and service than at any time in our 150-year history. To read more about the UK story and how you can support continued investment in your university and the Commonwealth, go to: uky.edu/uk4ky. #uk4ky #seeblue