By Sarah Geegan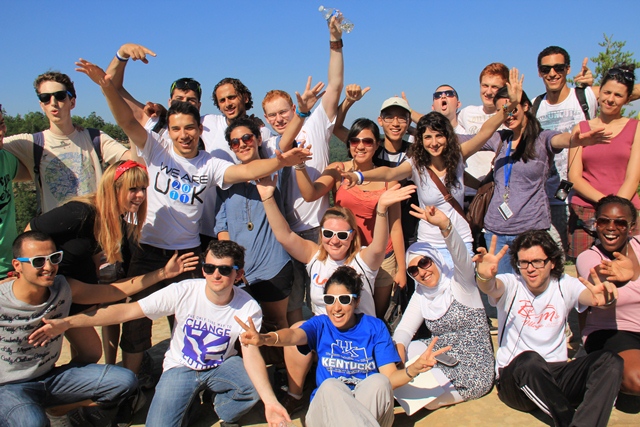 The University of Kentucky won the 2012 Andrew Heiskell Award for Innovation in International Education for the Discover Germany-Discover USA program.
Issued by the Institute of International Education (IIE), the Andrew Heiskell Award honors initiatives in international higher education among IIE's association of more than 1,100 member institutions. The awards showcase the most innovative models for international partnership programs, study abroad and internationalizing the campus, with emphasis on programs that remove institutional barriers and broaden the base of international teaching and learning on campus.
IIE will honor seven different initiatives on nine campuses at its seventh annual Best Practices in Internationalization Conference in New York City in March. More than 200 campus leaders and international education professionals in the United States and around the world attend the conference each year.
The Discover Germany-Discover USA program sends 20 UK students of diverse backgrounds, either minority, Appalachian or first-generation college students, to Berlin each June and brings 20-25 German immigrants or first-generation college students to UK each Sept. The program provides a fully-funded, five-week academic experience for those students, who are largely underrepresented in study abroad programs.
The program's prevailing goal is to have students reflect on the concept of "otherness," in local, national and global contexts: to provide a mechanism through which students from underrepresented groups in both countries can reconsider their own concepts of identity through an international experience.
J.J. Jackson, vice president for Institutional Diversity, has coordinated the program since its development in 2008. Involved in the selection process and pre-departure preparation, Jackson also accompanies the students to Germany each summer.
"My personal philosophy is that you understand your world better when you have seen the world through somebody else's eyes," said Jackson. " This program gives students with no international experience insight into the rest of the world, which they can use to evaluate their own experiences. It is designed to open students' eyes."
The program focuses specifically on selecting students with limited travel experience. For many participants, the trip abroad is their first experience outside of Kentucky.
The program selects students in the fall, which makes it possible for them to register for German language classes in the spring, at the urging of program coordinators. Jackson said that students with even one semester of German language typically have advantages over students with less exposure.
In Berlin, students study German culture, language, politics and societal issues. They also take excursions to historic and cultural sites.
"The students come back changed forever," Jackson said. "We tell them, particularly the ones with no experience outside of the state, that their minds will be stretched in ways they never imagined."
Jackson, along with Susan Carvalho, Associate Provost for International Affairs; Andrea O'Leary, Administrative Assistant for International Affairs and John Yopp, Associate Provost for the Partnership Institute for Math and Science Education Reform, will accept the award in New York.
"The 2012 IIE Heiskell Awards recognize some of the world's best initiatives in internationalizing higher education," says IIE President and CEO Allan E. Goodman. "We appreciate the winners' commitment to excellence and applaud their serving as models for other campuses to learn from as they plot their own internationalization strategies. The IIE Heiskell Awards are designed to strengthen international education in the United States and around th