Researchers from the University of Kentucky departments of Chemistry, Food Science, Biosystems and Agricultural Engineering (BAE), as well as the Center for Applied Energy Research (CAER) were recently awarded funding from the UK Sustainability Challenge Grant program in order to demonstrate an integrated approach to replace coal and petroleum-generated products with sustainable, biomass-based products. Ideally, the research will lead to jobs for rural Kentuckians suffering from the slowing coal industry as well as help the United States reduce its dependence on foreign oil.
The team, led by Drs. Justin Mobley (Chemistry) and Rachel Schendel (Food Science), has partnered with Buffalo Trace Distillery in order to exhaustively utilize agricultural residues (corn stover and spent distillers grains) generated by Kentucky's bourbon industry and produce value-added products. In order to do this, the corn stover must first be fractionated into cellulose (the carbohydrate component) and lignin (the aromatic component). This will be achieved using a technique developed by Dr. Jian Shi's lab in Biosystems and Agricultural Engineering (BAE).
Once fractionated into lignin and cellulose, the cellulose fraction will be transformed by Dr. Sue Nokes's team (BAE) via saccharification and fermentation into alcohol-based biofuels. The lignin component will then be broken down using a state-of-the-art catalyst system developed by Dr. Mark Crocker's team (Chemistry/CAER). The catalyst system is capable of producing high levels of monomeric products suitable for the replacement of petroleum-based fine-chemicals.
Residual oligomeric and polymeric materials will be used by Dr. Mark Meier (Chemistry) and Dr. Matt Weisenberger (CAER) for the production of high-value resins and carbon fibers/activated carbons, respectively. The grain fraction (harvested prior to delignification) of the biomass will be utilized by Buffalo Trace Distillery and distilled into bourbon. Prebiotic arabinoxylan oligosaccharides will be enzymatically isolated from the spent distiller's grains by Dr. Rachel Schendel's team (Food Science), and the residual grains used as animal feed.
Along the way, biomass and bio-product samples will be sent to Drs. Bert Lynn and Justin Mobley (Director of the UK Mass Spectrometry Facility and Director of the UK Chemistry Nuclear Magnetic Resonance Center, respectively) for analysis. Thus, a cradle-to-grave approach will be demonstrated with the potential to reduce our dependence on fossil fuels, decrease our carbon footprint, and add economic value to under-utilized waste streams in Kentucky.
The team is partnerinig with the UK Honors College, as well as the KY-WV LSAMP (Kentucky - West Virginia Louis Stokes Alliance for Minority Participation) and the researcher's home departments in order to recruit undergraduates complete each of the projects. 
Seen below are picture of the team from a recent trip to Buffalo Trace Distillery. During the trip, researchers met with the Master Distiller of Buffalo Trace Distillery, Harlen Wheatley, to discuss the bourbon byproduct spent distillers grains (SDG). While the current value-added product produced from spent distillers grains is animal feed, there are limits to the amount of SDG feed you can give livestock. As the bourbon industry continues to expand, we will quickly out-pace the amount of SDG that can be fed to livestock in Kentucky. The team hopes to develop new value-added products and well paying jobs in the state.
The KY Integrated Biorefinery Team would like to give a special thanks to Buffalo Trace (Specifically Harlen Wheatley, Matt Higgins, and Freddy Johnson) for providing a detailed and enlightening tour and to Dr. Seth DeBolt (Horticulture) for acting as a liaison and tangential advisor.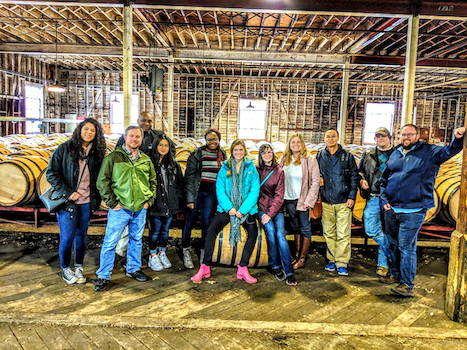 Left to right: Dr. Jian Shi, Dr. Justin Mobley, Makua Win Nnajiofor, Rilwan Oyetunji, Harlen Wheatley, Dr. Matt Weisenberger, Jarrad Gollihue, Vianna Le, Glenna Joyce, Stephanie Sorensen, Julia Parker, Dr. Czarena Crofcheck, Freddy Johnson.