by Sarah Geegan and Courtney Quinn
The University of Kentucky will host a regional Global Health Conference, uniting faculty and other professionals, medical residents, students and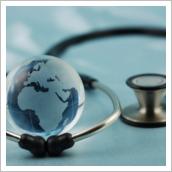 community members from various disciplines, to reflect the expanding field of global health, on Oct. 26, from 8:30 a.m.- 4 p.m. in the Student Center Addition.
Along with UK's emphasis on internationalization, the conference responds to a very strong student interest in global health from a wide spectrum of disciplines. While UK has participated in various global health related activities in past years, and many faculty have conducted important research and teaching in areas related to global health, this will be UK's first conference highlighting these achievements.
Dr. Samuel C. Matheny, Nicholas J. Pisacano Professor and Assistant Provost for Global Health Initiatives, has played a lead role in planning the event, along with Dr. Claudia Hopenhayn, chair of the Conference Committee.  
"This is a regional conference with participation from our neighbor universities with whom we work closely," Matheny said. "As Thomas Friedman stated in his recent book, titled 'The World is Flat,' our world is shrinking rapidly. All of us are going to have to be concerned about the health of everyone else, for political, social, as well as health reasons." 
The conference will facilitate participants' assessing their understanding of how global health is changing and discussing ways in which they can collaborate to better overcome obstacles and maximize global health efforts. The conference will also give participants with experience in global health a platform to exchange experiences, share successes and failures, and expand future work inter-professionally.
"We are realizing that for most of the world, the greatest burden of disease is shifting to that of chronic diseases, such as cardiovascular diseases, diabetes, and diseases associated with over-nutrition," Matheny said. "The University of Kentucky is fortunate in having a number of faculty with a specific interest in a number of these social determinants, as well as chronic diseases, and some of their work will be highlighted in the conference."
These faculty include Beth Barnes, director of the School of Journalism and Telecommunications, and her activities in Zambia with educational initiatives; Gail Brion in the colleges of Engineering and Public Health and her interest in sanitation, water and hygiene; and Deborah Crooks' work in food security in the College of Arts and Sciences.
The conference will also serve as a venue for those new to global health to learn about different involvement opportunities, both in the U.S. and abroad.
"It is of particular importance for many of our students and faculty to share their interests and experiences with each other," Matheny said.
Matheny said that the conference will also emphasize that health is multifactorial, and that there are complex social determinants that can influence a country's health status.
"There is a growing awareness of the fact that many factors can influence the health of a country, as in the education of young women and girls, clean water, improved sanitation and improved nutrition," Matheny said. "In many cases, low-income countries have achieved improved health status without the large investment of resources into expensive medical infrastructures."
The conference will convene with keynote speaker Dr. Michael Merson at 3 p.m. in Worsham Theatre.
The founding director of the Duke Global Health Institute, as well as professor of global health and of medicine at Duke University, Merson previously served as chief epidemiologist at the Cholera Research Laboratory in Dhaka, Bangladesh, and at the World Health Organization directing several programs, including WHO Global Program on AIDS. He currently serves as adviser for UNAIDS, the Global Fund to Fight AIDS, TB and Malaria, and the World Bank, among others. He is also interim vice president and vice provost for Global Health Strategy and Programs at Duke University.
"We are indeed fortunate in having Dr. Merson be both the keynote speaker for this conference, as well as be a distinguished lecturer in our Global Health Lecture series, which will be at the end of the conference and is open to everyone," Matheny said. "Dr. Merson, quite simply put, is one of the world experts on global health. We expect him to help us discover how a major research, land-grant university can assume leadership in this important area, and help us with a road map for the future. "