By Sarah Geegan, Derrick Meads
Earlier this semester a University of Kentucky delegation led by Interim Provost Tim Tracy visited Jilin University – one of the most prestigious "Top Ten" universities in China – with an aim to expand UK's name recognition in China, and create new collaborative opportunities. This trip builds upon President Capilouto's trip to Jilin University last May.
Like the University of Kentucky, Jilin University is a large comprehensive institution that includes several health care colleges, creating numerous opportunities between the two institutions.
Huajing Xiu Maske, director of the UK Confucius Institute, worked closely with Jilin University to design and implement "UK Week" at Jilin University. A total of 28 Jilin University colleges, departments and administrative offices participated in the exchange week.
Members of the UK delegation lectured at Jilin University's Administrators' Forum and various departments during the exchange week, giving Jilin University faculty the opportunity to experience UK from a disciplinary, academic vantage point.
"By working with China's top comprehensive university, and identifying it as a strategic partner, UK will be able to enter a more extensive collaboration with Jilin University involving more disciplines and studies," Maske said. "By working together in areas of faculty exchange, research collaborations and student exchange, value is added to both sides."
Maske was recognized with a Special Contribution Award at Jilin University for the work she has done to promote collaboration and exchanges between Chinese and American universities.
During the visit, the UK delegation explored the ways in which a university-wide system of agreements and partnerships can be more effective than individual collaborations.
This ties into UK's efforts to identify strategic priorities for its international work by creating fewer but deeper partnerships according to Susan Carvalho, associate provost for international programs. "Partnering with Jilin University enables UK to achieve its strategic priorities for partnerships in China by focusing on a few institutions, building synergies among all players."
Carvalho went on to describe how this visit will also increase the number of funded research opportunities that are based on a U.S. researcher having a Chinese partner. "We hope to have our faculty get to know their counterpart faculty there, see where our strengths match up and identify new or expanded research opportunities."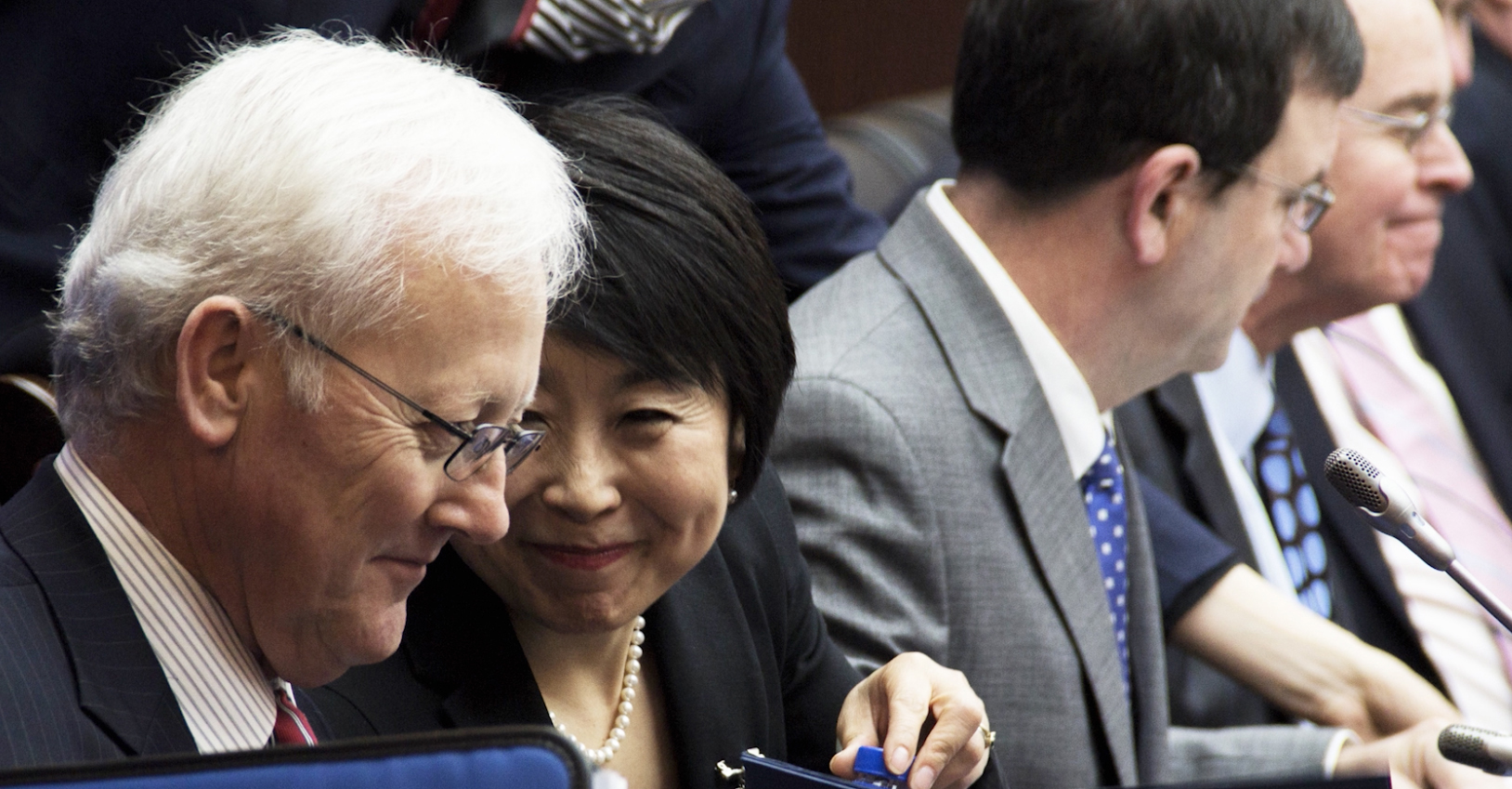 Interim Provost Tim Tracy and the Chairman of Jilin's University Council, Professor Chen Dewen of Jilin University, signed a memorandum of understanding laying the groundwork for a joint collaborative framework between the two universities.
This collaborative framework opens the way for agreements between Jilin's undergraduate public health program and UK's graduate program in public health, a 2+2 agreement with their physics program and other potential collaborations with the colleges of Public Health, Education, Arts & Sciences and Business & Economics.
"The visit underscores a partnership that will encompass a wide range of UK colleges and programs, at both the undergraduate and graduate levels," said Carey Cavanaugh, director of the Patterson School of Diplomacy and International Commerce. "Such new academic opportunities are essential to ensure that UK students are competitive in today's global economy."
The UK delegation consisted of five deans (College of Arts and Sciences, Gatton College of Business and Economics, College of Communication and Information, College of Pharmacy, College of Education), the director of the Patterson School, the vice president for development, the associate provost for international programs and the director of the UK Confucius Institute.
"The greatest outcome was that we cemented our status as a major U.S. partner for Jilin University," said Gatton Dean David Blackwell. "The fact that we assembled such a large delegation from UK created a lot of synergy and accomplishment from the visit and showed our deep interest and commitment. This obviously impressed the leadership of Jilin University. If we stay focused on the relationship, I predict a strong relationship potentially involving joint academic programs, student exchanges, and faculty exchanges."