b
y Rebekah Tilley
photos by Mark Cornelison
Erin Pullen drove into Lexington for the first time in the middle of a midnight thunderstorm.Yet by the time Pullen left town she knew UK is where she wanted to go to graduate school.
"I loved the feel of UK," said Pullen, now a third-year doctoral candidate in the
Department of Sociology
. "Sociology is a growing department and it's exciting to be a part of something that's fresh. People are trying to make things happen here and that's exciting as a student."
In addition to discovering the Kentucky hot brown to be "a revelation," the Michigan native found that as a graduate student she had a number of opportunities to work closely with faculty, and enjoyed the productive environment it fosters.
"The department is competitive but it's more collaborative which is the kind of atmosphere that I need to succeed," explained Pullen. "I think competition is good, but I mostly prefer to compete with myself and focus on what I'm doing and not be in an environment where students see one another only as opponents."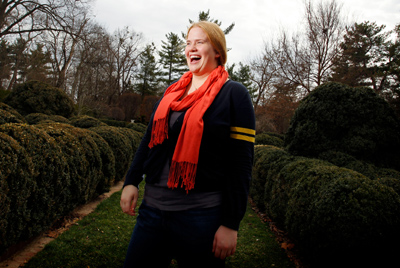 This collaboration has extended even outside the Sociology Department as Pullen has participated in projects in the Department of Geography, the Center on Drug and Alcohol Research as well as a summer collecting data for a project about driving under the influence in Appalachia in the Behavioral Science Department.
As an undergraduate anthropology major at Michigan State minoring in peace and justice studies, Pullen has long felt passionate about being a meaningful voice for others. Now at UK working with mentors Carrie Oser and Brea Perry, Pullen is studying the reasons behind the huge health gap between African American women and the rest of the population, which she sees as a natural progression from her undergraduate studies.
"It is meaningful work that has to be done," said Pullen. "One's health is so basic, so fundamental. I think the research I am currently part of and interested in pursuing further is oriented toward eventual change, but I realize that this is a long process. I see the contributions of academic work as an essential part of this process – and something that I am honored to be a part of."

>>Erin Pullen Receives University Nomination for Thesis Award
With a fellowship grant through the Sociology Department, Pullen is using part of the massive dataset looking at health disparities among African American women to look specifically at patterns of preventative care usage. "When I say it like that is sounds really dull," Pullen said laughingly. "I'm trying to understand why African American women use health services and why they don't. Are women more likely to use services because of support from family and friends? Is it the environment of the medical institution? Fear of racism?"
Even as a young graduate student, Pullen is already an accomplished scholar.  Her masters thesis which she completed last year titled: "Rethinking the Cultural Cartography of Appalachia: Region as a Fundamental Social Cause of Drug Use," received the institutional nomination for the Midwestern Association of Graduate Students (MAGS) Distinguished Master's Thesis Award.  It was also awarded the 2010 Outstanding Graduate Student Paper Award by the Section on Alcohol, Drugs, and Tobacco of the American Sociological Association.
Looking toward her dissertation, Pullen is planning to continue research on African American women health disparities. In a way, this turn in her research toward issues of medical justice seems fitting given the number of women in her family in the medical field as nurses and nurse practitioners. Plus, she said, the data is full of deep, nuanced insight into a growing health crisis. "The dataset is amazing. It is really rich."