by Sarah Geegan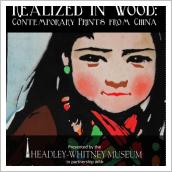 The UK Confucius Institute has partnered with the Headley-Whitney Museum to present contemporary art, fashioned in a centuries-old style.
The exhibition, "Realized in Wood: Contemporary Prints from China," features 10 artists' woodblock prints, a traditional style that dates back to the Han Dynasty, prior to A.D. 220. The technique involves artists cutting away the background of an image into a block of wood with a chisel, knife or sandpaper, and then covering the block in ink and pressing it to paper or cloth.
Woodblock prints have provided a window into Chinese culture throughout history. Particularly in the 20th century, the wide range of styles reflect the influences of German expressionism in the 1930s, the Soviet socialist realism in the 1950s, the lyricism of the early 1960s and the watered-down realism of the Cultural Revolution in the late 1960s and 19970s.
"Twentieth century Chinese art demonstrates various creative forces at work in an ancient nation caught between tradition and the challenges of Western civilization," Huajing Maske, director of the UK Confucius Institute, said. "It is different from Chinese art of any previous age. It began and developed within the larger historical context of traditional Chinese culture, along with a strong impetus from Western culture that entered China with Western expansion."
The 10 artists represented in the exhibition are all members of the Chinese Print Association, so in a way, they are colleagues. Nevertheless, their styles, subject matter and techniques differ dramatically.
The exhibition will remain on display until Dec. 23, 2012, and is curated by Renee Covalucci, a printmaker and educator from Massachusetts.
Maske said this partnership reflects the essence of the Confucius Institute's mission to provide cultural education in regard to China, to UK students and the Lexington community.
"UK Confucius Institute's mission is to contribute to the university's core mission by working with colleges and departments to broaden their China partnerships that create more research opportunities for faculty and study opportunities for students," Maske said. "We are the muscle to strengthen the China studies program at UK.  Working with community partners such as the Headley-Whitney Museum, the institute expands UK's China studies beyond the campus into the community, thus bridging the campus and the community in terms of China."
In conjunction with the exhibition, the Confucius Institute also hosted a well-attended lecture "A Rising Change of Tide: Modern Woodcut of China," held at the Niles Gallery in the Lucille C. Little Fine Arts Library Sept. 25. A gallery talk and woodblock print demonstration were conducted at the museum on Sept. 26.
Established in 2010, the UK Confucius Institute is a center for Chinese language, culture, art and business. As UK's and Kentucky's  gateway to China, the UK Confucius Institute serves as conduit for UK's China Initiatives by providing leadership and support for the Chinese language programs in Kentucky's K-12 classrooms and by conducting Chinese cultural outreaches to the community.