By Jenny Wells
The Kentucky Girls STEM (Science, Technology, Engineering and Math) Collaborative, in partnership with the STEM-H Institute at Eastern Kentucky University, will hold its fifth annual conference "Reaching for the Stars!" Friday, June 7, at the Eastern Kentucky University campus.
Educators, counselors, business and community leaders, parents and girls are invited to come meet others with a strong desire to see girls discover opportunities available to them within the STEM fields. Conference attendees will explore up-and-coming career opportunities in the STEM disciplines and learn proactive steps to help girls overcome roadblocks to their success in these fields.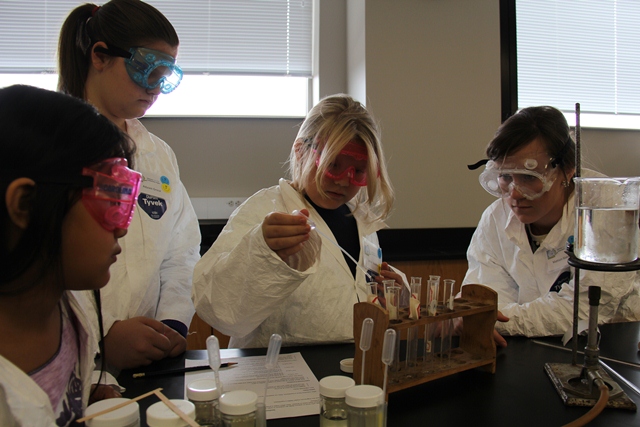 Keynote speakers include Tracie Prater, materials engineer at United Launch Alliance; Suzanne Smith, director of NASA Kentucky Space Grant and EPSCoR Programs; and Tanea Reed, assistant professor in the Department of Chemistry at EKU. A panel session of experts includes Kristy Fehr, Kentucky's 2012 Outstanding Elementary Science Teacher; Cynthia Warner from Kentucky Educational Television; Liza Holland of "STEM Sparks" from Tates Creek Middle School; Wendi Eads, chemistry faculty and coach of the Madison Central High School's Science Olympiad Team; and Jen Carter from Space Science Center at Morehead State University. A second panel session will include successful females from middle school, high school, college, industry, and academia. This panel will include Kristen Brennan from Alltech.
Registration for the conference is available online until May 31. The registration fee for the conference is $30 per person.
In conjunction with the conference, EKU will also host a "Girls STEM Day" from 8:30 a.m. to 3:30 p.m. Girls in grades 5-11 are welcomed to join for a day of hands-on, minds-on exploration into science, technology, engineering, and mathematics. Female STEM practitioners and educators will lead girls through activities that mirror real-world STEM tasks and highlight creative and innovative problem solving. Participants will also learn how to best prepare themselves to study STEM fields in high school and college.
Registration for "Girls STEM Day" is also available online only through May 31. The fee is $15 per person.
Exhibitors from prominent Kentucky industries as well as girl-serving organizations and programs will be available to meet with conference attendees. Lunch for both events will be provided on-site.
Check-in for both events begins at 8:30 a.m. at EKU Hummel Planetarium, and both begin at 9 a.m.
A flyer for the conference is available for download as a PDF. 
Based at the University of Kentucky, the Kentucky Girls STEM Collaborative Project brings together organizations and programs that are committed to informing and motivating girls to pursue educational choices in STEM to build a strong, diverse workforce in Kentucky. The collaborative is based on a model developed by the National Girls Collaborative Project (NGCP). Organizations involved represent K-12 education, higher education, government, professional organizations, business, and community-based organizations.