UK researcher is working to make the Earth's water supply safer to drink.
By Jennifer T. Allen
Most people don't worry about their drinking water causing cancer, brittle bones or neurological diseases. Not many suspect that it could contain arsenic, mercury or lead. Even fewer know that efforts are underway on the third floor of the Chemistry-Physics building to remove these and other contaminants from water.
Since 2000, chemistry professor David Atwood and his student researchers have been working to remove elemental contaminants from water — and they have been successful.  
"Most people don't realize their direct effect on the quality of our water and our air," said Lisa Blue, a chemistry graduate student working in Atwood's lab. "We have certain things we can't live without, such as water and air, and I want to be part of the solution in taking care of those necessities."
Atwood and his team have designed compounds that trap and remove contaminants from water. Water is filtered through the compound, which grabs onto the contaminant permanently. The filtered water then comes out clean.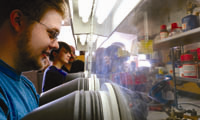 The research taking place on UK's campus has repercussions around the world. Arsenic contamination of drinking water is a large problem in India and Bangladesh and even poses problems in the U.S in several western states and on the East Coast. "I have measured arsenic levels in India's drinking water as high as 220 parts of arsenic per billion," Blue said. "The World Health Organization recommends under 10 parts per billion as safe. After filtering the water through our treatment, there was less than five parts per billion, which was the detection limit on that set of runs."
The next step for Atwood and his team was to develop water treatment devices for personal use in homes. "We are working to get the water treatment in homes at an affordable cost," Atwood said.
Cleaning up drinking water isn't Atwood's only environmental pursuit. Since 2005, he has been working to create a real-time sensor for detecting environmental contaminants. "The real-time sensor is based on a quartz crystal microbalance (QCM) and can be coated with different compounds to detect different contaminants. We are collaborating with a Lexington company, Quansor, Inc., who holds the QCM patents. My lab is responsible for creating the contaminant-specific coating to be used in the QCM."
"In one application we demonstrate the ability of the sensor to bind and detect oil from an oil-water mixture," Atwood said. "This is important for ocean-going vessels where the amount of oil they release to the ocean is strictly regulated."
The sensor is based on changes of mass and could be expanded to monitor groundwater, nerve agents and pesticides. Atwood and Quansor are also working to interface the monitors with wireless electronic data transmission, which would allow results from the sensors to be transmitted through cell phone or satellite technology. This aspect of the work is being conducted by another Lexington company, Knight Electronic Design, LLC.
"Right now we don't have a way to monitor water continuously," Atwood said. "With this technology, we can submerge sensors in water at different depths and basically have a map of the sensors telling you every two minutes the identity and quantity of the contaminants that are present and where."
And the technology can go beyond monitoring water. "I could see nerve agent monitors at the Bluegrass Army Depot located outside of Richmond, Ky., in New York City, or even on vehicles in Iraq or Afghanistan. One class of compounds we've created can decontaminate nerve agents, turning them into non-hazardous solids that would be easy to handle and dispose of," Atwood said. "One use of the continuous monitoring system would be to place sensors around large metropolitan areas on a grid. Not only would you be able to know when a contaminant has been released into the air, but you would be able to know which way it was moving and could plan evacuation procedures accordingly."
As Atwood looks to the future, he wants to find more compounds that can neutralize toxins in the environment. "If there is a contaminant in water, I am confident my group can create something to take it out," he said.
He would also like to venture into biological contaminants, such as E. coli, viruses and anthrax, and find ways to capture them before they infect people. With the growth of the nuclear industry, Atwood also sees growth in radionuclides and detecting and capturing radioactive elements in the water and air.
"I chose to focus my research on environmental chemistry because I can apply fundamental inorganic chemistry to problems that have direct human impact," Atwood said. "I really enjoy seeing our basic research applied to environmental problems that are important to the average person."
Did you know?
Tap water is more closely monitored and regulated than bottled water.
Coal-fired utilities used to produce electricity release 48-52 tons of mercury into the air in the U.S. every year by burning coal that contains mercury.
Issued in 2005, the Clean Air Mercury Rule (CAMR) made the U.S. the first country world-wide to regulate mercury emissions from utilities.
However, a federal appeals court on Feb. 8, 2008 invalidated the CAMR because it did not require sufficient mandatory reductions in mercury. You can expect more stringent rules providing greater protection from the element in the near future.
Clean water is expected to become more precious than oil in the coming decades.
UK is uniquely positioned to become a global leader in arsenic research with faculty studying this element in the Colleges of Agriculture, Arts & Sciences and Engineering, and in the School of Public Health.
About David Atwood
David Atwood came to the University of Kentucky Chemistry Department in 1998 after spending five years in the Main Group Center at North Dakota State University. He has been conducting environmental research since 1996 and has published over 150 peer-reviewed articles. He is the editor of Main Group Chemistry (a journal he created), and an editorial board member of theEncyclopedia of Inorganic Chemistry and Wiley's Textbook Series in Inorganic Chemistry.
There are currently seven graduate students and several undergraduates working in Atwood's lab. Atwood and his students have seven patents issued or pending, with many more in the works.