Below is a Chinese newspaper article on Department of Biology professor Carol Baskin that originally ran in the Morning News and was written by Yankuang Su. There is also a letter attachment from Xinjiang Agricultural University inviting Baskin to give several guest lectures and congratulating her on her "Tianshan Award."
Wearing a simple patterned shirt, light-colored pants and a pair of golden-colored glasses, this tall and scientific-looking woman is American professor Carol Baskin.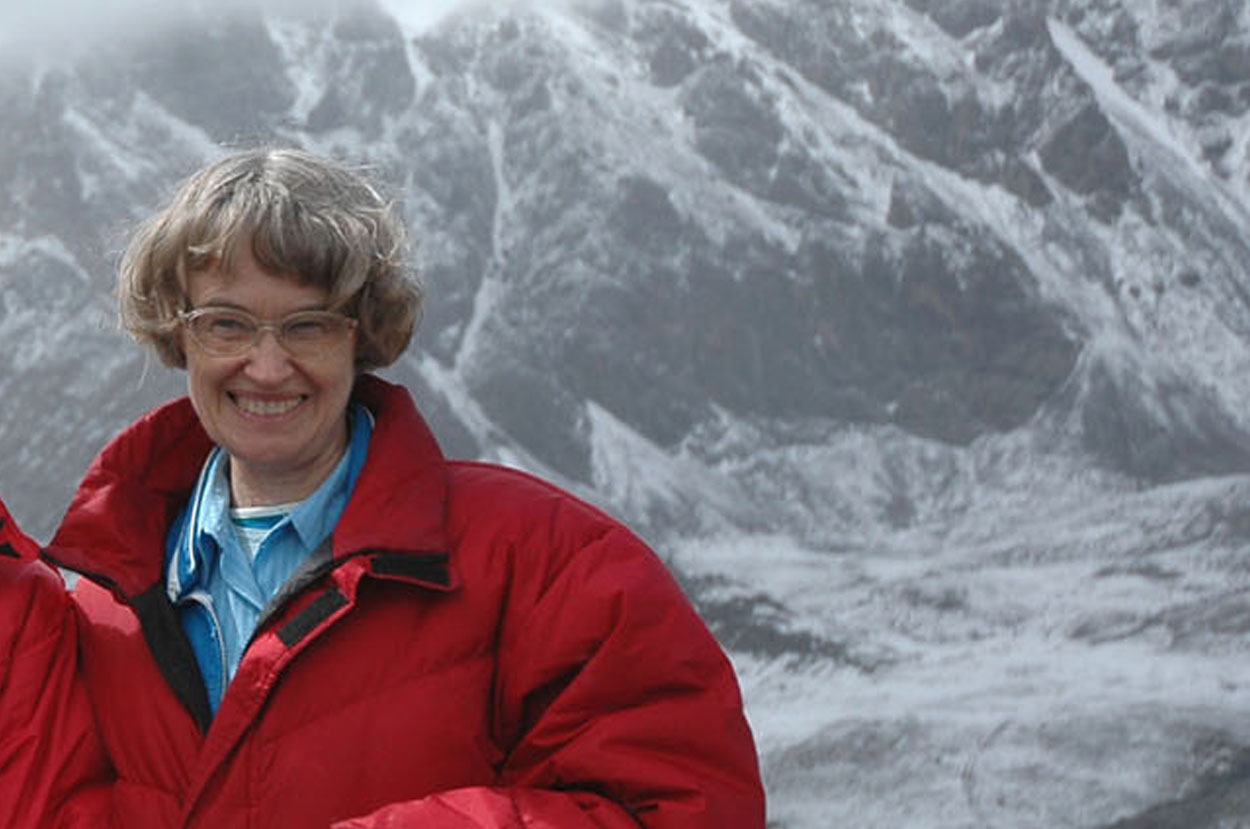 Carol Baskin is a professor at the University of Kentucky. In 2006, she and her husband Professor Jerry Baskin made their first academic visit to Xinjiang when they started collaborating with researchers at the Xinjiang Agriculture University to study the ecological adaptation mechanism of desert plants. They have been making significant contributions to the study of the ecology of desert plant seed, as well as training young scientists.
On May 23rd, the government of the Xinjiang autonomous region announced the names of six foreign experts who won the 2012 "Tianshan
 Award," and Dr. Carole Baskin was one of them. When she got the news, she and her husband didn't go out to celebrate, but continued working in the office. "We fell in love with Xinjiang.  I would like to thank the people of Xinjiang for giving us this honor," Baskin said.They came to do research in Xinjiang every year.
At about 4 pm in the afternoon on May 25th, in the one of the laboratories in the Xinjiang Agricultural University, 71 year-old Carol Baskin was studying plant specimens while Jerry Baskin was sitting on another chair and thinking about something. Noticing the reporters entering, Carol Baskin immediately reached out and warmly shook hands with us.
In July 2006, upon the invitation of the Institute of Botany of the Chinese Academy of Science, Carol and her husband traveled from Kentucky, a state located in the Midwest region of America, to visit Xinjiang province for 10 days. During the visit, they held discussions on the ecology of desert plant seed with some collaborators in China, including researchers from the Xinjiang Agricultural University. Since then, they have been interested in the study of desert plants and the ecological environment in Xinjiang, and have decided to collaborate in both scientific research and education with local plant ecologists. During the last 7 years, the Baskins have come back to Xinjiang every summer, spending every day of their visit in the field.  So far, they have conducted detailed field studies in Junggar Basin, Yili River Valley, Atlay Mountains, and Tarim Basin.
Professor Dunyan Tan from the Department of Practaculture Science and Environment of Xinjiang Agricultural University said, with the generous help and guidance from the Baskins, research at Xinjiang Agricultural University on the adaptation mechanism of desert plants in Xinjiang has made some outstanding achievements in the field of reproduction and seed ecology.  The research has received great international attention. The Baskins and researchers from Xinjiang Agricultural University have 13 publications in English, 4 of which are published in prestigious journals.  Moreover, the Baskins always devote their precious time to educate young researchers at the Xinjiang Agricultural University.
Professor couple live a simple life
Although the Baskins have been appointed at many Universities and earned many academic achievements, they live a very simple life.

Dr. Juanjan Lu, a faculty member at the Department of Grass and Environmental Sciences of Xinjiang Agricultural University, says it's hard to image how frugal the professors are—they don't care much about food and clothing. They are only devoted to research. Lu says they rarely go out to nice restaurants, or out to dinner at all, but prefer snack bars and ordinary food.

The one thing that impressed Lu the most about the couple's frugalness is when they flew to Xinjiang. They had a layover in Beijing and had to stay for the night. "Even having known that the university was going to pay for a hotel, they said it wasn't necessary. They slept in the terminal."

In Carole Baskin's laboratory, there is a half-finished hamburger. Burgers are a typical lunch for them. Baskin says, "It's a waste of time going out to lunch, since you need to wait in line. So we call fast food places to order hamburgers to save time for research."

Even on the weekend, they eat hamburgers in order to save time for research. Talking about food, Carole Baskin offered some of her favorite dishes. "I like the Xinjiang Nang (a pancake-like traditional food of Xinjiang), Xinjiang noodles, stir-fried tomato and eggs, but we don't have enough time to try everything," she said.

Professor Baskin said she is "very grateful, very happy" about winning the "Chinese Tianshan Award."

"This award is for research conducted by both professors, but because of the application rules, we gave the award to Carole Baskin, "Lu said.

The Chinese Tianshan Award was established in 1999 and is presented annually in recognition of outstanding foreign experts who contribute to Xinjiang's economic and social development. It was established by the government of Xinjiang Uygur Autonomous Region. At present, about 100 experts have received the award.