Anyone who has ever had doubts about majoring in English – with questions about job prospects or a well-defined career path – should talk to Andrew Crown-Weber.
He was in the same boat when he came to UK, unsure as to where an English degree would lead him – the answer has been, just about anywhere and everywhere.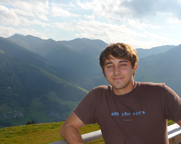 The Danville native always knew he enjoyed language. Growing up in a house that emphasized reading books over watching cable television, his connection with words has been firmly entrenched. Add in his wide-eyed enthusiasm for knowledge and his varied academic interests, and Crown-Weber found an A&S education to be the perfect launch pad for travel, learning and adventure.
Early on he landed in Jonathan Allison's class on James Joyce and William Butler Yeats, which led to an opportunity to travel to Ireland with Allison for an international convention on Yeats.
"What I liked about A&S is that there were lots of opportunities if you took the initiative to study what you wanted," Crown-Weber said.
Back in Lexington he thrived in that environment. He did an independent project in which he read all of Kurt Vonnegut's books and wrote and presented at the Showcase for Undergraduate Scholars.
He devoured Dan Breazeale's class on Nietzsche. "Not to diminish any other class, but it was the best class I've taken," Crown-Weber said of the philosophy course. "We read every one of his books. It was really challenging, but I got a lot out of it. It's helped shaped the way I see the world in some ways."
After finishing his B.A. in English, Crown-Weber was a fellow in the Gaines Center for the Humanities and added a second major in Linguistics, working with professors like Greg Stump on the Shughni Grammar Project.
With German as his second language at UK, Crown-Weber worked this past school year in the tiny Austrian town of Braunau am Inn, just over the German border, where he taught English to students ranging from 14 to 19 years old.
Crown-Weber said the students speak English well, partially because of being inundated by American media. "They love 'The Simpsons.' Recently, they have dubbed the show in German, which is really weird, because the voices of the Simpson's characters are so distinctive – everyone has a much lower voice in the German version," he said and joked about pursuing some sort of Simpson's angle for a master's thesis topic.
He plans to return to Austria this upcoming year, continuing another year of teaching ESL – ideally working in Vienna this time around.
The adventurous soul that he is though – he's been busy juggling numerous other projects. This summer he's been riding his bike across the United States to raise money for promoting literacy at the Carnegie Center here in Lexington. You can read about his unique trip – bloody knees and all – at his blog detailing the trip.
Not to mention the fact that after having an undergraduate fiction writing class a couple years ago with Kim Edwards, he's been inspired to finish his own novel that he has been kicking around for a few years.
He's been fortunate enough to be aided by esteemed folks like Tom Marksbury, Erik Reece and Ed McClanahan in the writing process. "We would meet at Lynagh's – but after the writing input I would just bask in the glow as they talked about all sorts of other things," Crown-Weber said of the experience.
"The novel is about someone who is addicted to online role playing games – like 'World of Warcraft.'" 
"The charcater sees the real world and game world merging – real life becomes increasingly game like to him. His quest is to go across the country and get revenge on his (online) murderer at a gaming convention in Las Vegas – it's a little like Don Quixote – he has adventures that other people don't see."
Quite the opposite for Crown-Weber – whose adventures are real, and soon he'll likely continue his academic career in graduate school, but please, one adventure at a time.